The hiker's Backpack, how not forget anything!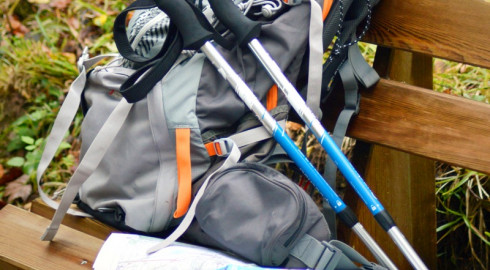 IGN map: Going hiking with a description of your route is good, but with an IGN map it's even better!
The map is the essential tool for hikers, it allows you to know where you are but also to know what is the right path based on the descriptions of the routes we suggest. In addition, the IGN map enables you to evaluate the difference in height and the distance you have to go, as well as locate water points, exceptional views and picnic areas.It is a complementary tool and should not be overlooked as it will make your hike easier and more comfortable. Order maps.
Sleeping bag: If you plan to spend the night in a shelter with a dormitory, you will need a sleeping bag and pillow. Extra blankets are often provided if necessary.
Linen and toiletries: Unless you staying in hotels where towels are provided, in all other cases you will need to bring your own towels and toiletries.
Rubbish bags: Always leave a place as you found it when you arrived: There are no public bins in the mountains, so it is important that after picnics, for example, you take your rubbish with you until you find a bin (shelter, inn, public bin or take it home).
Plastic bag: A badly closed flask or a leaking water bottle… A spillage in your backpack can easily happen! It is therefore important to protect your identity papers and money in a sealed plastic bag.
First aid kit: Hiking can be an extreme sport and no one is safe from a small wound or bite. Plan ahead and always take your first aid kit with you.
Pocket torch: Night often falls faster than you imagine, especially in dense forests. At times like these it's handy to have something to light the way until you arrive at your destination. It will also be very useful if you plan to spend the night in a shelter. If possible, use a headlamp attached with a headband, the beam of light will move with your head and will free your hands.
Snack: Hiking in the mountains is not just a simple walk; it is a sport in itself. To plan for moments of fatigue and/or hypoglycaemia, take something for a snack on route. Cereal bars and dried fruit are rich in carbohydrates, calcium, iron and vitamins and thus have very energizing properties.
Windproof jacket and rain cape: The weather may be changeable in the mountains, and rain and frequent of gusts winds at altitude are sometimes very intense. You will need something to cover yourself to protect you from the wind and rain which can affect your comfort and your health.
Sunscreen: Although we tend to feel it less because of the cooler temperatures due to altitude, the sun and UV rays are no less dangerous and aggressive. Remember to apply sunscreen 2-3 times daily on the face and exposed areas of the body.
Water: Hydration during hiking is essential, so it's important to stock up on water as often as possible so you will never run out. You may like to identify drinking water points with an IGN map to better plan your consumption.
Swiss Army knife: It's a handy tool for the hiker. It can be useful in many situations, both for a picnic or in case of emergency.